national healthcare spending
PRIVATE insurance Spending
Slide timeline to compare across years
national healthcare spending in
PRIVATE insurance Spending in
CLICK TO TAKE ACTION NOW
CAN YOU AFFORD HEALTHCARE IN THE FUTURE?
CONSEQUENCES
Americans are paying for the healthcare crisis with their lives.
Scroll to see how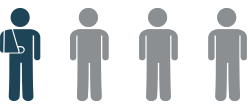 U.S. families are burdened with the world's costliest healthcare.
57

million
Americans have cut back household spending to pay for healthcare or medicine.
45% of American adults fear that a major health event in their household could lead to bankruptcy. Even with employer health coverage, a family earning $45,000 a year must budget at least 20% of their income for health expenses including premiums and out-of-pocket costs.
Health spending per person is growing 2X faster than household income.
Slide to see what the future holds
"Medical bills strike more fear in the hearts of Americans than serious illness... the very health and wealth of our nation and its people are at stake."
Shelley Lyford, President & CEO, West Health
Can you afford healthcare in the future?
You and your employer pay a lot for healthcare. Now and in the future.
Healthcare spending is failing U.S. education.
2X
Since 1990, the share of state spending on Medicaid has doubled at the expense of our students.
Childhood education is suffering under the weight of rising state spending on Medicaid. America's children — our future — deserve better. We need to control rising healthcare costs so they don't push aside other important priorities.
44 states now spend more on Medicaid than on K-12 education.
Slide to see what the future holds
"Healthcare costs are consuming our country's wealth to the point where we can't properly educate our children..."
Gary West, Founder, West Health

Drug profits are getting healthier as Americans get sicker.
$360

Billion

is how much the U.S. spends today for prescription drugs.
Food. Clothing. Rent. Utilities. Many Americans must make hard choices to afford medications. Even worse, almost one in five forgo needed prescription drugs due to cost. With drug companies charging higher and higher prices, fewer Americans will be able to afford the drugs they need.
48 million people can't afford their prescriptions
Slide to see what the future holds

Healthcare prices are skyrocketing.
3X
By 2040, the average cost of a hospital stay will be three times the average cost of a new car.
Going to the hospital can be a huge financial blow for Americans. Insurers, employers, and everyday people all feel the pain of rising healthcare prices, including hospital stays, physician visits and prescription drugs. Unless we act now, we can expect the cost of a hospital stay to reach $135,000 by 2040.
Hospital prices have grown 600% since 1990
Slide to see what the future holds

Spending on healthcare is stifling business growth.
$810

Billion
will be spent this year to support employee healthcare.
As a business spends more and more for employee health insurance, less and less is left for investing in their company's future. It's no wonder Warren Buffett calls healthcare "the tapeworm of the U.S. economy."
Employers will spend $2 trillion on health coverage by 2040.
Slide to see what the future holds
"The ridiculously high cost of our broken healthcare system poses an even greater threat to our great nation than any foreign enemy."
Gary West, Founder, West Health
Take Action!
Let's stop the epidemic of high healthcare costs in America. Join our movement.